Hardscaping is a great way to level up your home's landscape design for you and your family to enjoy. While it's true that hardscaping can be done on your own, you should leave it to the professionals at Backyard Reflections to handle your hardscaping project so that everything is planned and installed properly.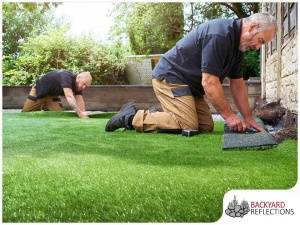 In today's post, we'll discuss the common hardscaping mistakes homeowners commit that you can avoid by reading on.
Lack of Planning 
A hardscaping project can be a one-time-big-time project, or it could be a gradual addition project that can be done over time. This totally depends on your preference or your plans as a homeowner. However, you should be aware that you have to plan your hardscaping project thoroughly to allow for flexibility or future additions.
Any replacement or movement in your hardscaping project can be expensive. To put things into perspective, you build a patio, then plan on installing an outdoor fireplace a few years afterwards. You can't simply drag your patio out of place to make way for your fireplace as you need thorough planning to allow seamless additions in the future. This is why it's advisable to have your hardscaping project done in phases and have your previous landscape plan on hand. This way, you can thoroughly plan the project and see how it progresses before deciding on having more additions in the future.
Improper Placement of Elements
You want to make sure that your additions make sense and don't disrupt the flow of your landscape design. For example, you don't want to add a statue, bench, or fountain in the middle of your lawn as it could disrupt your landscape flow and it makes it awkward navigating through your lawn with an out of place element. Be sure to factor the flow of your landscape, the season, the softscaping, when planning out a hardscaping project.
Do you seek professional help in improving your outdoor living space? Turn to Backyard Reflections! We offer premium landscaping services that will transform your dreams into reality. We have been in the landscape design-build industry for over 20 years! Call us at  (218) 454-1065 or request a consultation via our contact form.