Enhance Your Lakeshore Property
Your lakeshore property is a treasure. It's a special place all your own, an oasis where you can relax and enjoy the wonderous beauty that Minnesota has to offer. Backyard Reflections is here to help you make the most of your lakeshore property through thoughtful planning, design and building.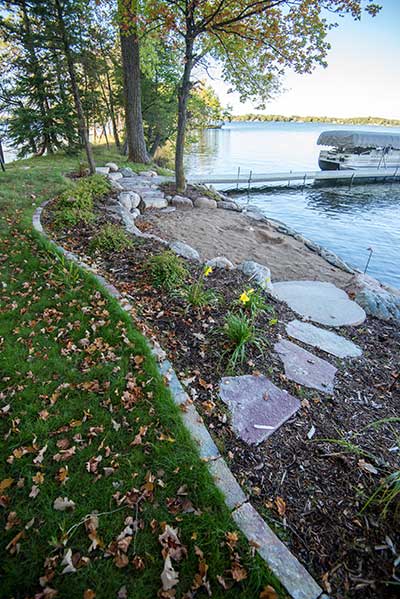 Shoreline Landscape Services
Lakeshore landscaping can not only enhance the beauty of your lakefront property, it can protect it as well. In addition to new landscaping services, Backyard Reflections can also address any concerns with the existing shoreline. Our goal is to create a beautiful, long-lasting lakeshore.
Backyard Reflections will work closely with you to achieve the look you want while preserving nature. Whether you need a small touch-up or a complete transformation, we have 20 years of experience in outdoor landscaping. We'll coordinate your project and obtain the necessary permits and approvals. We also use the latest techniques and procedures to protect the environment.
Contact Backyard Reflections for an Estimate
Backyard Reflections wants to make your Minnesota lakeshore property the best it can be. Learn more about our shoreline and landscaping services by calling us at (320) 274-6336 in Annandale, (218) 454-1065 in Nisswa or you can reach us through our online form.
Services We Offer
Your Full-Service Landscape Contractor in the Annandale and Nisswa, Minnesota Areas