Create Structure With Custom Retaining Walls
Retaining walls provide usable space on even the steepest slopes. When built properly, they are a beautiful addition to an outdoor space. At Backyard Reflections, our teams have worked on some of the most steeply graded areas to excavate and install beautiful retaining walls.
Constructed to Beautifully Contain Your Landscape
Retaining walls have a sculptural quality that adds definition to the landscape. They can be made from various materials to evoke different looks.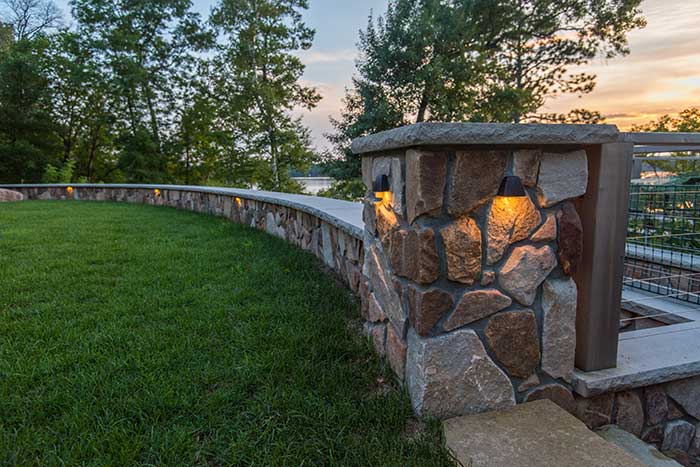 Backyard Reflections uses the best equipment available and the latest techniques to install retaining walls on hills that most other contractors avoid. You can trust us to stabilize your landscape and create more usable space for your family to enjoy. Retaining walls can be used to:
Terrace the backyard
Carve out a patio
Create a driveway
Transition to a sidewalk
Maintain a hill
And much more!
Get Started On Your Next Project!
How effective your retaining wall will be and how long it will last depend largely on the quality of installation. Consider the experts at Backyard Reflections for professional wall installation and premium landscape services. Need to repair your existing retaining wall or plant some greenery to brighten it up? We can do that too. Give us a call at (320) 274-6336 in Annandale, (218) 454-1065 in Nisswa or fill out our online form to schedule your consultation.
Services We Offer
Your Full-Service Landscape Contractor in the Annandale and Nisswa, Minnesota Areas
DESIGN/BUILD CONSTRUCTION
DESIGN/BUILD CONSTRUCTION
Backyard Reflections can help customize your landscape design and build completely unique structures, tailored to your outdoor lifestyle needs.
ENHANCEMENTS
ENHANCEMENTS
Even the smallest update to your yard can make a big impact on its overall appeal. Choose from a wide variety of enhancement services.