With fall comes longer and colder nights, making it the perfect time to consider adding an outdoor fireplace or fire pit in your backyard. People tend to gather around the fire–it has been that way since olden times–because of its warmth and simple comfort. But when planning for this addition, you'll need to consider a few essentials first. Backyard Reflections, the premier landscape design company in the area, shares some tips.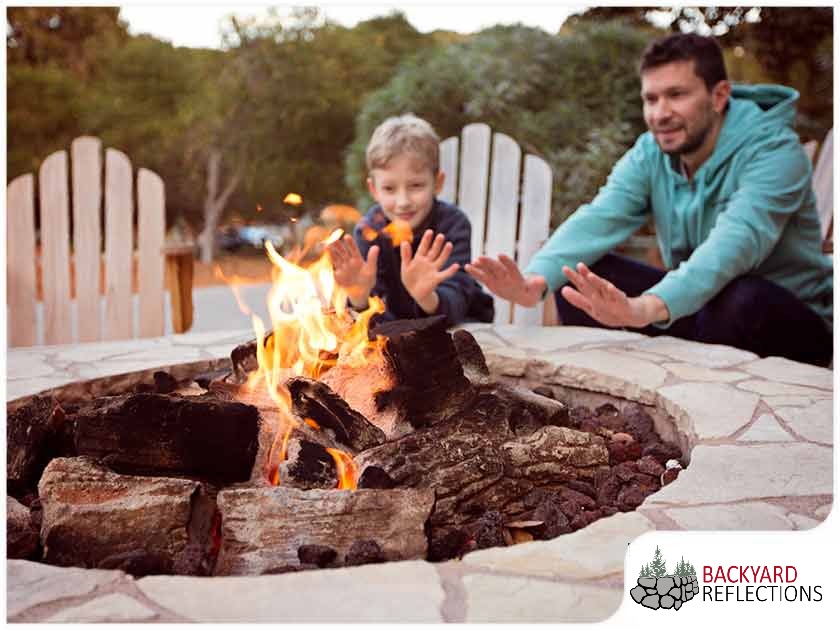 Check Fire and Building Codes
First things first–check in with your municipality about codes and regulations regarding open fires. Doing the necessary research helps you avoid problems later on. Zoning regulations will dictate how close to your home, other buildings, fence, or trees your fire pit should be. They can also regulate the chimney height, ventilation, gas lines, and flues of your outdoor fireplace, as well as restrict the type of fuel you can use. Given how these rules exist not only for your safety, but everybody else's, it's generally a better idea to just comply with all of them.
Take Your Pick
Would you like a fire pit or an outdoor fireplace? Both options offer distinct advantages. A fire pit, for example, is more cost-effective, and easier to install in your backyard. Because it is smaller and doesn't limit the seating to one side, a fire pit can be enjoyed by more people. An outdoor fireplace is bigger, costlier, and requires some construction. It can be used to give more privacy, or block an unappealing view, and some outdoor fireplaces can be designed so you can cook on them. Whatever your choice, make sure to work with a trusted landscape and outdoor living company like Backyard Reflections for their installation.
Consider the Material
Your choice of materials will typically depend on the style of your home and your available budget. Outdoor fireplaces and fire pits are made from noncombustible materials. These include brick, stone, tile, slate, and concrete. There should also be a hard surface, such as stone or masonry, to keep them stable and fire-safe.
Outdoor living can be more enjoyable with a lovely and well-designed fire pit or outdoor fireplace from Backyard Reflections. Just turn to us if you want these exceptional features for your own backyard this fall. We serve Annandale, MN and the surrounding areas. Call us today at (320) 274-6336 or fill out this contact form to schedule your consultation.