The usual burst of life and activity typical of spring and summer are winding down, giving way to a cool and relaxing fall. And while this season calls for spiced drinks, sitting around the fire, and gazing at all the orange and gold, you still shouldn't overlook yard and landscape maintenance. But no worries–the task isn't as daunting as you might expect, especially when you know what to do. Backyard Reflections, the premier landscape design company in the area, can help you get started with this handy checklist: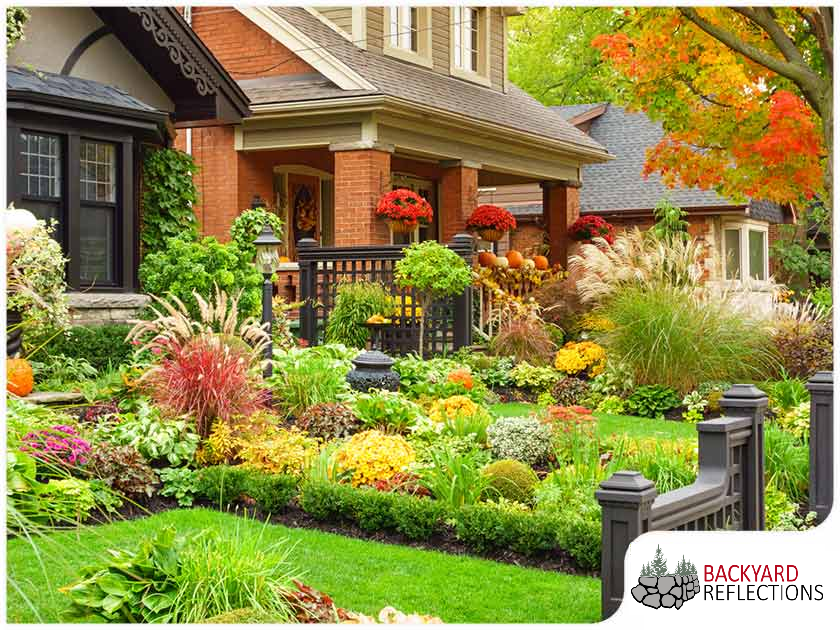 Proper Lawn Care
That vast, rolling green loses some of its vibrancy come fall. Here's how to ensure you get another thick, green, and healthy lawn in the spring:
1. Cut the grass at the proper height. Grass continues to grow even in the cold season, so keep cutting them at the ideal 2 ½ to 3 inches. Keeping the grass long allows it to mat and be susceptible to fungi. Cutting it too short curtails the root system, negatively affecting the way your lawn withstands cold and dryness.
2. Clear the leaves off the lawn. Those piles of orange and brown leaves may look charming, but they actually don't help the grass underneath. They trap moisture and block the light, effectively damaging the turf. For this reason, blow or rake the leaves from your lawn. Even after the trees are bare, rake out the corners where the wind is piling the leaves up. A healthy lawn is essential in maintaining a beautiful landscape, so rake the lawn as much as you can.
3. Keep watering.Your lawn should get at least an inch of water a week, so keep your sprinkles or irrigation system running up to the end of October. This ensures the grass roots remain hydrated and healthy going into the colder months ahead.
4. Seed and fertilize. Overseed the new lawn, or any spots that need refreshing. This fills in those thin spots and bare patches, eliminating the potential of weeds growing within those gaps. Because the ground is still warm and moist, the nights are cool, and the days aren't as hot during fall, it's the perfect time to overseed your lawn.
Don't forget to use grass fertilizer, as well. This protects the lawn and allows it to bounce back in spring, where it can add beauty to your landscape. The fertilizer should be applied later in fall. But make sure to never use it near waterways or ponds to prevent contamination.
Tree, Shrub, and Groundcover Maintenance
The greenery around your home will need as much upkeep as your lawn. Check out some of the essentials you should do:
1. Don't forget the basics. This means mulching and watering newly planted conifers regularly, raking fallen leaves, and cleaning up any rotten crops from fruit trees. Prune any diseased, broken, or dead branches to keep the trees healthy and prevent insect infestation. You should also prune any weak or narrow angled tree branches over your home and walkways. This way, they won't fall and injure people or damage any property.
2. Plant new trees. Fall actually offers the perfect opportunity to plant new trees, such as oak and holly. Temperatures are cooler and there's less chance of wear and tear from the scorching sun. This allows the new trees to build root mass and prepare for dormancy in the winter. To determine whether the new trees you're looking to plant will thrive in your property, consult a trusted landscape design company like Backyard Reflections.
3. Tend to your roses. If you keep roses, cut back the canes to within a foot of the ground, then cover them with soil. Use burlap to wrap the canes of tender roses in burlap, then place the wrapped canes on the ground, covering them with mulch or soil.
Fall Garden and Hardscape Upkeep
Whether you grow vegetables or tend flowering plants and shrubs, it's a better idea to do some work this fall to lay the foundation for a more active spring. Here's what to do:
1. Clean out the beds.If you still have crops in your garden, harvest them before the first frost. Make sure to remove all the plant debris from the beds to prevent pests and diseases from lingering in your garden.
2. Add compost and plant cover crops. To enrich the soil in your vegetable garden, spread up a 3-inch layer of compost over the beds. You won't have to till it in–rain and soil organisms will take care of them. After that, sow cover crops, such as mustard, peas, and clover, to the beds to prevent erosion. You can turn them over into the soil in spring to increase the nutrients.
3. Remove the weeds and add mulch. You might want to clear away the weeds in your perennial garden so you have less to deal with come springtime. Add a layer of bark mulch (about 5 inches) over the crown of perennials you've planted this growing year. Do the same to those that are frost-tender.
4. Begin planting spring flowers. Outdoor living becomes even more enjoyable when you have flowers adding color to your backyard. For this reason, start planting your tulips, daffodils, and other spring-blooming bulbs. While you're at it, you should begin digging and storing non-hardy bulbs and working on your cool-season annuals, as well.
5. Don't overlook your tools and equipment. Make sure to clean the tools after use, and run gas engine mowers until they're empty. Any outdoor furniture, tools, and hoses should also be stored by this time. Any permanent water systems and pools should be drained.
If you feel like you can't juggle all these maintenance tasks on your own, you can just turn to Backyard Reflections. Our landscape maintenance division can handle the work for you, such as maintaining your lawn, planting beds, and cleaning up any debris or weeds. No job is too big or too small for us, so feel free to reach out anytime.
Fall Landscape Additions You Might Like
Once you've managed the tasks involving your greenery, you should consider sprucing up your landscape or backyard with a few upgrades. Backyard Reflections, the trusted outdoor living expert, can help you with this, as well. Here are some backyard additions you might like this fall:
1. Outdoor Lighting. If you already have outdoor lighting but want modern and effective features, Backyard Reflections can upgrade your existing one or install a new lighting system for you. This way, you can highlight the best spots in your backyard, while allowing traversal in your outdoor space at night much safer.
2. Fire Pit or Outdoor Fireplace. Imagine being able to sit with the family around the fire, sipping hot cocoa on big mugs under the cold fall night. Backyard Reflections can build you a fire pit or outdoor fireplace that can add a warm and cozy feel in your backyard space.
3. Patio Installation. We can extend your living room to the outdoors with a sturdy, beautiful, and well-designed patio. This allows for more room for entertaining and relaxing, plus we can add whatever awesome features you want, such as a fireplace or outdoor kitchen.
Look no further than Backyard Reflections for all your fall maintenance and outdoor living needs. We serve Annandale, MN and the surrounding areas. Call us today at (320) 274-6336 or fill out this contact form to schedule your consultation.