Sustainability is probably not the first thing that comes to anyone's mind when talking about landscaping. After all, landscaping is mostly made of trees and plants, right? In today's post, local landscaping and outdoor living company Backyard Reflections examines the importance of sustainability in landscaping.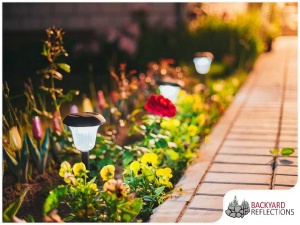 What Is Sustainable Landscaping?
Sustainability is defined as the ability to exist constantly and has minimal impact to its immediate environment. A sustainable landscape, therefore, needs to have both its aesthetic qualities, but it has to thrive in local temperatures, rainfall, and weather patterns, with minimal intervention from humans. It basically lets nature do all the work.
Benefits of Sustainable Landscaping
Having a sustainable landscape in your property can be beneficial in many ways:
It's Low-Maintenance — Sustainable landscaping won't require as much trimming, replanting, or other forms of maintenance. It can stay the way it is the whole year-round.
It Uses Up Less Fuel — Certain types of landscaping require tools that use up fuel or electricity. By eliminating the need for such tools, or at least by using them less frequently, you're using up less fossil-based fuel. It also helps reduce your landscape's carbon footprint.
It Generates Less Waste Material — Another benefit of having a landscape that needs less frequent maintenance is that it generates less waste that needs to be disposed of. Granted that most waste material from gardens is organic, plastic bags will still be needed to collect them, and vehicles will still be needed to transport them.
Planning a Sustainable Landscape
Creating a sustainable landscape takes a good deal of planning. The following are some of the things that can help you get started:
Choose Your Plants Wisely — Plants that are endemic to the local area are best for sustainable landscaping. You have to take stock of your current landscape design and find out which ones are not thriving, and replace them with native species. You also have to be aware of invasive plant species. They're usually not native to the area and can be so aggressive that they push out native plants and upset your landscape. Local landscapers like us are familiar with which plant species are best for such applications.
Keep the Soil Healthy — Plants derive nutrition from the soil, so it only makes sense to make sure you're planting on healthy ground. Techniques such as aerating the lawn, where you put small holes to give water and nutrients better access to the soil, should be used. Starting a compost pile can help minimize organic waste and helps keep the soil nutrient-rich.
Manage Rainwater Runoff — Rainwater runoff is a common problem for many reasons: it can cause damage to house foundations, it can flood outdoor living areas, and can erode landscaping. A properly-designed gutter and drainage system should properly route rainwater to storm drains. However,
If you are planning on making your landscaping more sustainable, you need to make sure your drainage system does not need to be looked after frequently. This means you must address existing drainage problems in your yard. Routing rainwater somewhere else, such as installing rain barrels and French drains, can also help.
Use Eco-Friendly Materials for Hardscaping
Hardscaping is part of landscaping where hard, non-plant materials are installed. Concrete, rocks, and non-corrosive metal like copper are common materials used for this purpose. Choose eco-friendly materials whenever possible. Instead of wired outdoor lighting, choose solar-powered lights. Reclaimed materials like discarded slate roofing and old wooden doors are likewise ideal.
Maintain Your Landscape Using Sustainable Means
Low maintenance landscaping doesn't mean you shouldn't completely leave it to its own devices. Sooner or later, you will need to use fertilizers or pesticides in your garden. Make it a point to choose eco-friendly and non-toxic options whenever possible.
Backyard Reflections is your leading provider of landscape design services. Give us a call at (320) 274-6336 or (218) 454-1065. You can also fill out our contact form to schedule an appointment.