In most sunny regions, it's not uncommon to find a garden or a landscape or two that pop with color. In Minnesota, your plants have to be tough against the cold and harsh climate to survive.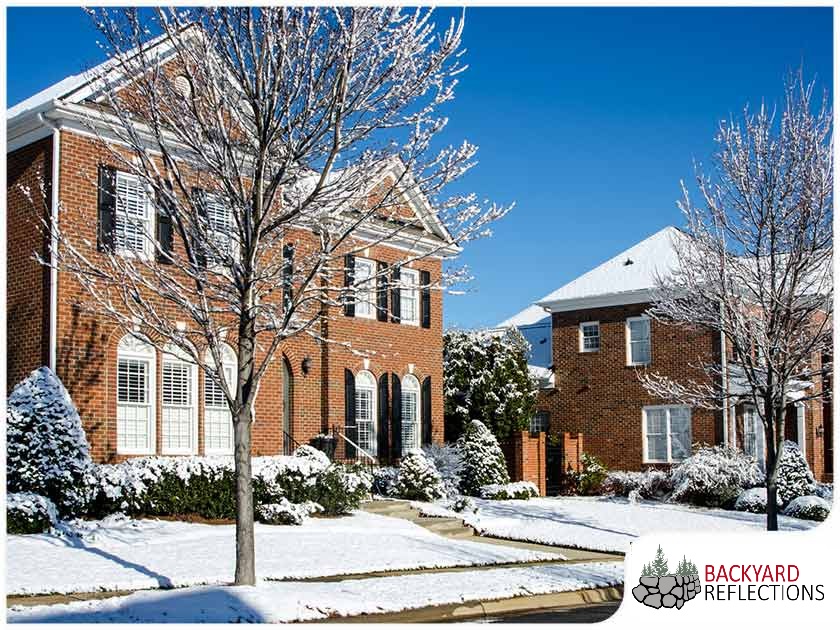 Evergreen foliage, for example, appears bleached when exposed to the winter sun and the freezing temperatures. When it snows, branches often break. Trees can sometimes be toppled by the weight of snow and ice coupled with the wind. And when you deice your driveway, some of the salt can end up in your landscape, killing plants.
That might not paint a pretty picture, but the truth is it's not impossible to enjoy lush greenery in your outdoor living space, even in the punishing climate of the Twin Cities. You have to know, however, how to protect your plants from the challenges that come with the winter season.
Here are some of the tips you need to keep your plants healthy when the cold winds start to blow:
Trees
Trees don't simply die because of the weight of snow and ice. What really happens is, when a tree is exposed to the winter sun, the bark reaches temperatures that cause the tissue to thaw. When the sun is blocked by a building, clouds, or hills, the bark quickly loses heat, leading to tissue death and, often, vertical splits in the bark. This makes it easier for the tree to be felled by the weight of snow and ice.
To minimize the effect of the winter sun on your trees, make sure to water them even in the winter until the ground freezes. They need a weekly average of 1 inch of moisture.
Trees with thin barks and those that have only been planted recently as part of your landscape design are more susceptible to damage. Protect them with white plastic tubes or tree wrap up to their lowest branch. After the last frost, make sure to remove the tubes or the tree wrap.
Evergreens
Evergreens often turn brown during the cold winter months. This is because the sun and the wind cause dehydration. Evergreens can't replace the moisture lost to sun and wind when the ground is frozen solid. This causes the plants to turn brown. It's known as winter burn.
You can protect your evergreens from the harsh winter by planting them in the right place. Some plants, for example, won't survive if they're planted in an area where they are fully exposed. Arborvitae, hemlock, and yew, for instance, are likely to wither and die if they are planted on the south or southwest side of your home. It's a matter of designing your landscape without forgetting which plants should be planted where.
Here are more tips to minimize winter evergreen injury:
Avoid planting them in areas where you are likely to deice with salt, or where salty runoff is likely to flow. There are plants that can survive salt, and they're a better option for such areas. You can also use burlap to minimize the salt spray that lands on your plants.
Before the temperatures drop, spray your evergreens with anti-desiccant for extra protection on the outside of the plants.
Tie branches of upright evergreens for support.
Pieces of pine boughs propped over or against your evergreens will serve as protection from the wind, sun, and snow.
Don't fertilize your evergreens past the middle of August.
If a plant is already injured, surround it with a burlap barrier with the top open. This can help the plant regain health.
You can come up with your own ways to protect your evergreens from winter burn. For example, you might want to set up a screen behind them that will deflect some of the snow and wind, and reduce the sun's rays that affect your plants. A mesh screen can also fend off attacks from hungry animals like rabbits.
Perennials
Some types of perennials are tougher against the weather than others. However, it's best to provide some protection to all of them if you want to keep them around your outdoor living space. Water your plants all season so they receive an inch of moisture every week until the ground is frozen.
Mulch before the cold season. Mulch made of hay, straw, or shredded leaves should be 4 to 6 inches deep. Don't use walnut leaves and don't mulch your peonies or bearded irises. Remove the mulch as soon as the spring thaws out the frost in the ground.
Shrubs
Shrubs often suffer shoot dieback in the winter. Dieback leads to the progressive death of shoots, branches, twigs, or roots. This is a sign of winter injury. It can be the cold, the salt, lack of moisture, or a combination of these. Shrubs can also suffer bud death, particularly spring-flowering shrubs.
To protect your shrubs from winter injury and death, avoid planting them in areas where they receive no shelter. Season-long watering to give your shrubs up to an inch of weekly moisture until the ground freezes can help them survive. Don't give your shrubs fertilizer after mid-August.
Protecting Your Plants Against Animals
If the harsh winter conditions don't kill your plants, animals will. Animal attacks are common in the winter because animals are also on the hunt for something to eat, as the freezing temperatures make food scarce. You can protect your plants from winter animal attacks by following these tips:
Buy screen wire or hardware cloth from your local store and encircle the trunk base of your trees. This will protect the bark from animals that like to gnaw. Make sure that you check the weather for the anticipated depth of snow. Your wire cylinder should not be less than a foot above the deepest snow.
You can also spray your trees with animal repellent, especially if a wire cylinder is neither practical nor possible.
Winter injury is the leading cause of plant death in Minnesota and in other areas where the season is bitterly cold. Make sure to follow these tips to protect your plants from winter injury.
Get in touch with Backyard Reflections for beautiful landscape design. Call us today in Annandale (320) 274-6336, or in Nisswa (218) 454-1065. You can also fill out this form.