When you're getting some work done on your landscape, chances are that you've heard your contractor suggest that you add a retaining wall to your garden, especially if you have sloping or elevated yard spaces. While you're more than free to level the sloped ground in order to have a flatter landscape, experts recommend that you opt for the retaining wall instead as not only could flattening the landscape could be time-consuming and costly but a retaining wall can bring about many benefits for your home. But what exactly are the so-called benefits that a retaining wall could bring?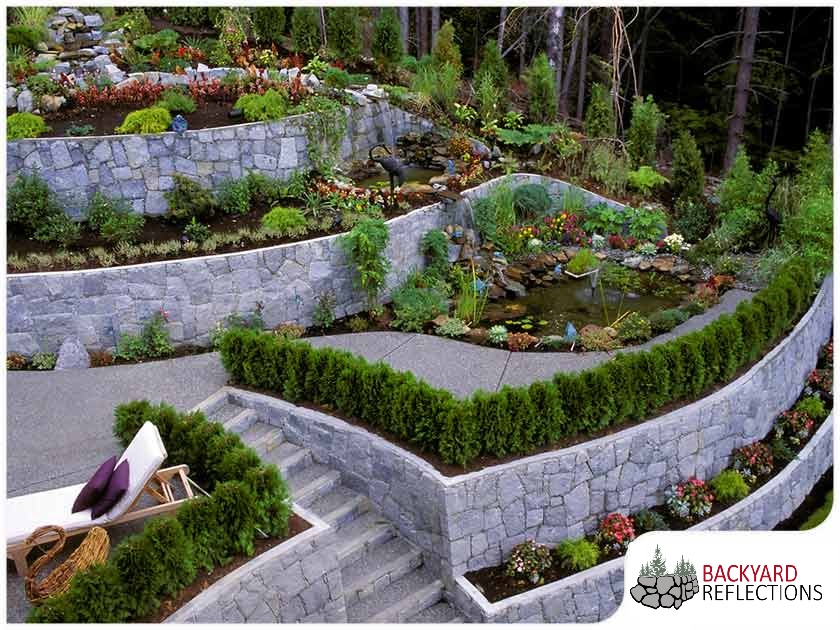 In this article, the landscaping pros of Backyard Reflections list the four different benefits to adding a retaining wall to your home's landscape.
Flood Control and Soil Erosion Prevention – Thanks to the excessive amounts of wind and water that storms can bring, flooding and soil erosion are prevalent problems in any landscape, whether the landscape is flat or sloping. This is where retaining walls come in as according to outdoor living experts, by adding a retaining wall to your home's landscape, you can easily prevent this from ever occurring. This is due to the fact that the retaining walls can support the soil even better and reduce the speed that water travels on the surface at the same time, preventing erosion in the process. Other than that, by adding retaining walls, channels and drainage pipes can also be integrated into the wall's construction to provide further measures for proper drainage and water control.

For assistance in constructing a retaining wall in your garden, simply turn to the pros of Backyard Reflections to get the job done for you.
Aesthetic Appeal – A retaining wall can be attractive additions to your yard depending on their height and the materials used in their construction. In fact, landscape design experts say that you have a wide range of options when it comes to building a retaining wall such as concrete or stone and the contrast of the materials alongside the natural landscape can easily work wonders for your yard. As a result, not only do you have a yard that boosts your home's overall aesthetic appeal but you'll also have another asset that can easily increase the value of your home, allowing you to maximize your profits if you ever decide to sell your home in the near future.
Structural Support – As stated before, a retaining wall can keep the soil of your yard in its place. This can be a great help to homeowners whose backyards have small hills as the walls can act as a barrier to prevent the soil from sliding forward in a landslide. By adding a retaining wall in your backyard, you'll be adding another safety feature in your landscape, ensuring not just the safety of yourself and your home but the safety of your yard as well.

To install a quality retaining wall in your landscape, don't hesitate to turn to the construction experts of Backyard Reflections for assistance in getting the job done.
Additional Functional Space for Your Yard – Having hills and mounds in your home is beautiful in its own right. After all, they can emphasize the nature that surrounds your property. However, they can also eat up valuable space in your yard and they can even be difficult to properly landscape. Once again, this is where retaining walls come in as while it may sound hard to believe, a retaining wall can easily add more functional space for your yard, which in turn you can use to add more plants to your yard.
Apart from providing your home with more gardening space, outdoor living pros such as Backyard Reflections say that adding a retaining wall to your yard can also define the entertainment spaces of your backyard. In fact, you can also install additional seating in your yard by turning your retaining walls into seat walls as well. Finally, you can also use them to showcase your favorite plants as the retaining walls can help you create a dedicated portion of the yard for gardening.
Important Things to Consider Before Building Retaining Walls
Before you sign a contract with a landscaping company and start building retaining walls around your yard, experts say that there are also a few important things you first need to consider. For instance, you need to choose the right materials for your walls. Luckily for homeowners such as yourself, professionals say that retaining walls can now be built with various materials such as brick, timber, or stone.
While stone is said to be the most popular material to use in retaining wall construction due to its elegant yet rustic appeal, experts recommend that you pick a material that matches the overall look of the property. Don't hesitate to look into suitable design patterns with your designer as well as the right design that can easily improve your home's aesthetic appeal and value.
Finally, since building retaining walls involve a lot of work and landscaping, you should never attempt to construct them on your own. Remember; you won't just be adding stone to your yard; you'll also need to add the proper drainage and multiple layers as well so water doesn't accumulate in your yard and cause problems. With that in mind, you shouldn't hesitate to turn to a reliable and trustworthy landscaping company to get the job done for you as constructing and installing a retaining wall in your property can be a complicated process with a large margin of error.
Need assistance with your landscape design plans? Look no further than Backyard Reflections. We are the leading service providers to turn to when it comes to landscaping and construction projects and we won't let you down! With 20 years of experience in our belts, we have proven ourselves to be one of the most reliable landscaping services in the area thanks to our dedication to providing quality workmanship and the best customer service possible. Give us a call at (320) 274-6336 or fill out our contact form to request a consultation today!